There are many feed stores in Ramona to choose from some specialize in Farm and Ranch needs others also carry a full line of Western and English apparel.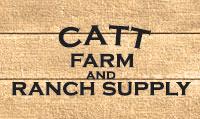 Catt Farm & Ranch Supply 760-789-2280
Catt Farm and Ranch Supply is a farm and ranch supply store that sells outdoor equipment, such as tractor supplies and implements, animal and horse supplies, fencing materials and various other items.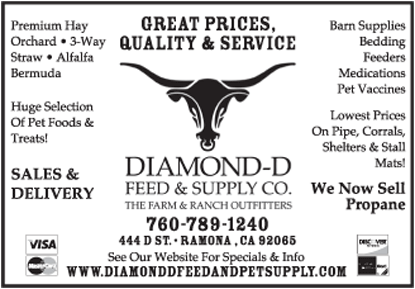 Diamond D Feed & Supply 760-789-1240
Diamond-D has stacks of feed and hay and other supplies at its convenient location in the center of town on D Street, just south of Main Street. It also carries feed and supplies for a range of other farm animals and a full selection of items for domestic pets. Labels include Nutro, Canidae, Taste of the Wild and Natural Choice. Propane tanks can be refilled. Club memberships are available, and check the website for monthly specials.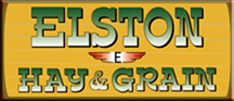 Elston Hay & Grain 760-789-5020
Hay has always been a large part of our sales, both wholesale (truckloads), and retail. However, over the years we have expanded our inventory far beyond hay and grain to become a complete animal supply center to meet the ever growing and changing needs of our customers. We have everything you need for all your animals requirements and are working hard to expand the depth of selection of all of our products. From a chew bone for your dog, to a saddle for your horse, we have it all!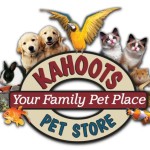 Kahoots Petstore 760-788-7785
Kahoots is a full service pet and animal supply company serving the communities from San Diego to Ventura County since 1987. We specialize in being the best resource for your family pet needs; by offering a variety of food & treats, accessories & supplies for whomever that bonus "family member" may be. That includes birds, cats, dogs, fish, reptiles, small animals and many others. Kahoots was founded on the highest standards of quality, customer service, and individual attention. Our knowledgeable staff love animals and will help you provide the best care possible for your pet.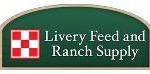 Livery Feed & Ranch Supply 760-789-5582
The Livery is an animal feed and ranch supply store that caters to local farm and ranch owners. Customers can purchase bulk animal feed, supplements and concentrates at wholesale prices.
Products: Animal feed, Animal Health items, Western and English Tack, English Riding Apparel, Wrangler Apparel, Georgia & Justin Boots, Breyer horses, Montana Silver Jewelry, Painted Ponies, Additional Gifty items, Dog and Cats supplies